Awards of International Benevolent Research Foundation (IBRF)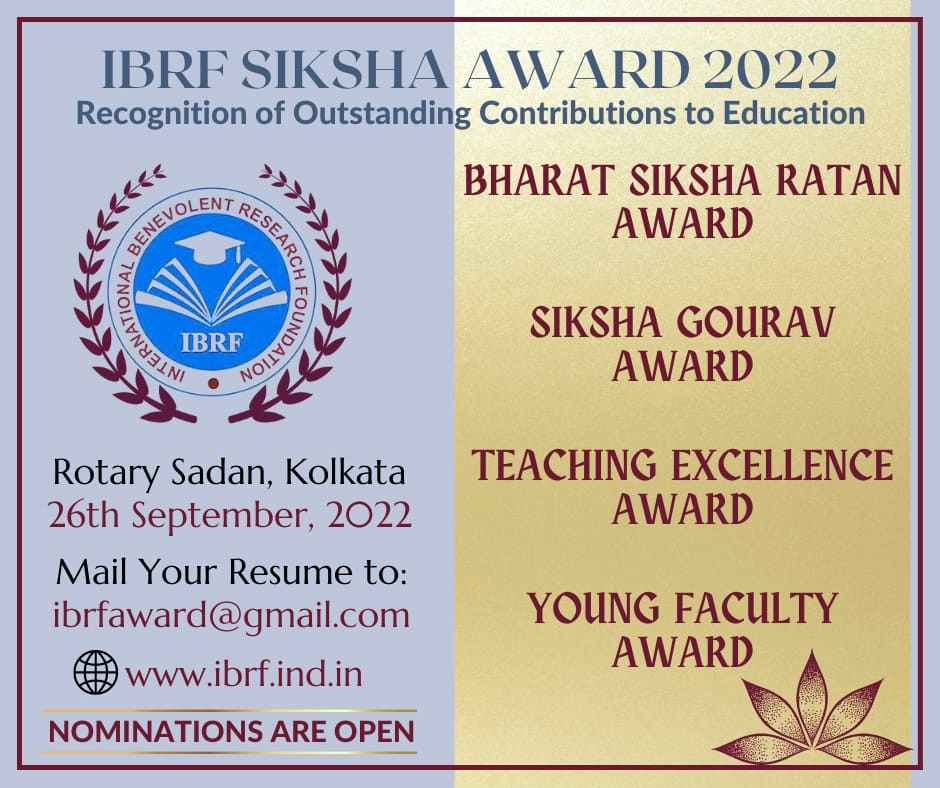 NOMINATION PROCEDURE
A nomination shall be made in the prescribed format (Nomination Form) through e-mail to
ibrfaward@gmail.com
DISTINGUISHED JURY
IBRF assures that the entire process of evaluation and assessment will be conducted by the esteemed jury with highest tenets of transparency and accountability.
BENEFITS OF AWARD WINNER
1.
Recognition in the form of Award Memento and Certificate by Leading Educational Think Tank of India will enhance the brand value of Institute/ Profile.
2.
A brochure listing of winners in each category will be published and widely circulated.
3.
Life Membership Certificate will be presented to the non IBRF Members
4.
Will get priority consideration for various committees of IBRF
NOMINATION FEE
1.
Registration Fees will be paid an amount of INR $,500 (For Non Members) and INR 3,500 (For IBRF Member), if the name is selected for award.
2.
The award memento and award certificate will be presented on 26th September, 2022 at Rotary Sadan, Kolkata on the occasion of Higher Education and Research Summit 2022 in the presence of many dignitaries including Vice Chancellors, Academicians, Scientists etc..
LAST DATE OF AWARD APPLICATION:
15th September, 2022